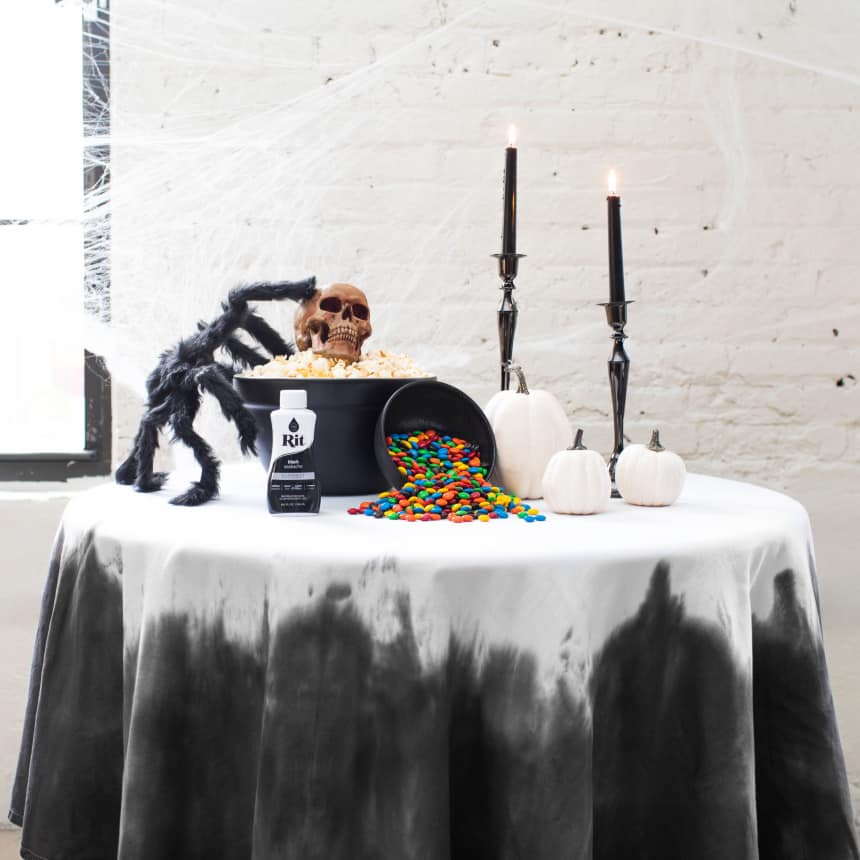 Dye Your Halloween Décor!
With these dyed décor ideas, you'll have the most festive house on the block. Trust us!
Not your grandmother's velvet pumpkins. We took the classic fall table decor staple and gave it a colorful, tie-dye twist with Rit DyeMore for Synthetics.
Set the scene this Halloween with our easy spiderweb photo backdrop made from an upcycled bedsheet, some twine and a bottle of Rit.
Spin up a web of comfort and get tangled up in the sheets with this easy tie-dyed Halloween bedding.
Here is a unique (and fun) way to class up those foam white pumpkins you see everywhere with some color.
This fun black dip dyed table cloth was so simple to make and will add some serious class to your décor.
Rit has been famously crowned the Halloween go-to for getting the exact color you need for your costume.
Hosting a Halloween party? Create an eerie vibe in your home with these spooky dyed faux flowers.
To a kid, the Halloween treat bag is just as important as the costume: it helps carry all of their candy! And this amazing reusable one can be used after year.
This tablecloth was so simple to make and something you'll definitely rescue from the attic year after year.
Your dog deserves some Halloween flair too! This simple DIY ensures they'll get in the spirit.
This spooky and fun tie-dyed Halloween wreath made by A Little J + K is such a creative way to add some tie-dye fun to your Halloween décor.
Our friend Paper & Stitch made these amazing shibori dyed treat bags, which could be used for just about any occasion!