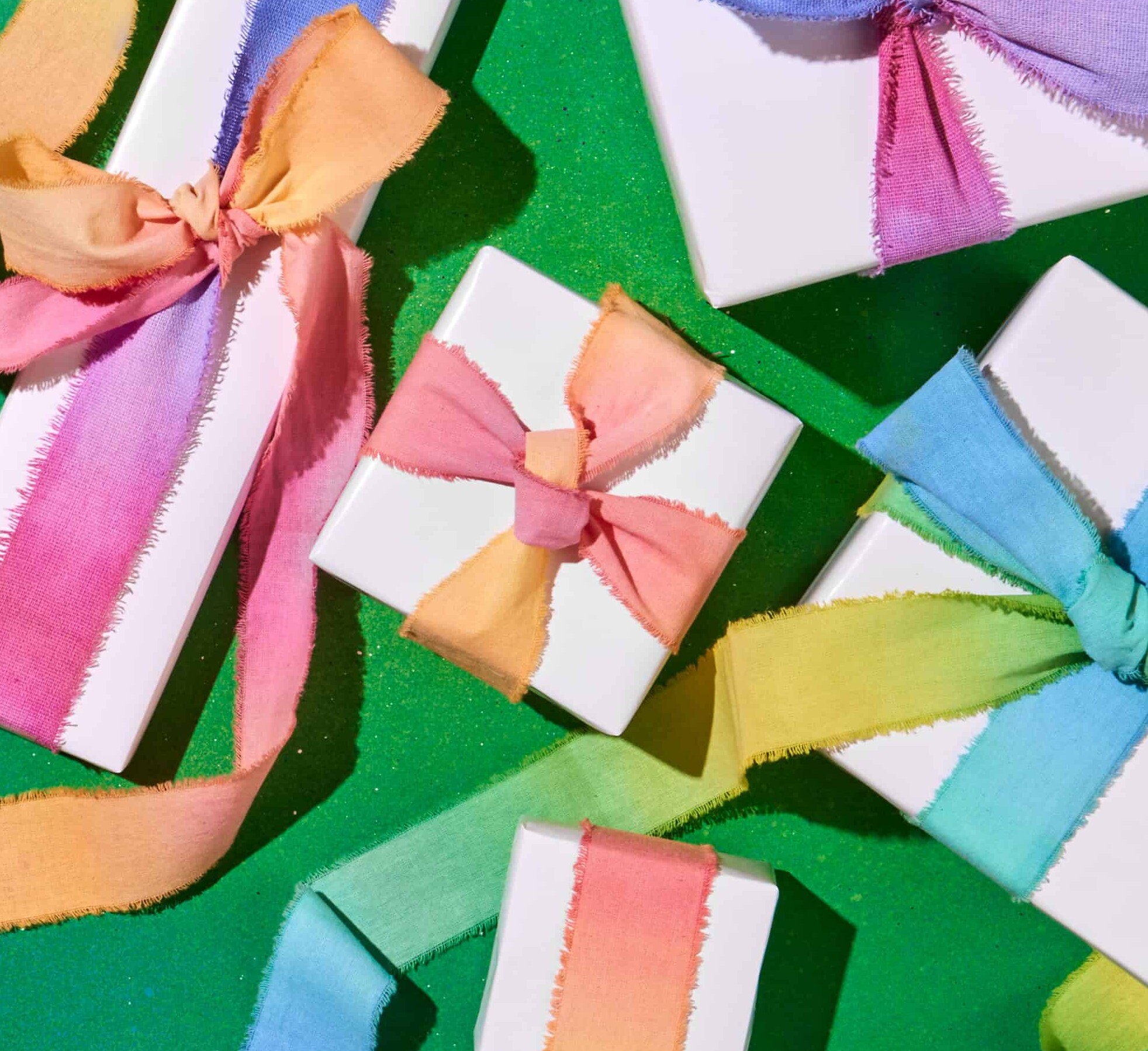 Cotton Ribbon or Fabric Cut Into Strips
Rit All-Purpose Liquid Dye in desired colors
Rit ColorStay Dye Fixative
Small jars or containers for dyeing, three
Small mixing spoon
Measuring Spoons
Paper towels
Plastic table cover
Salt
Total: {{ partial.tT2U.total }}
Beginner
Total: {{ partial.t2PJ.total }}
Prewash fabric to remove any finishes that may interfere with dye absorption. Leave
Fill small jars with about 4 cups of very hot water. Shake dye bottle before pouring. Wearing gloves, add 1 to 2 tablespoons of your favorite Rit All-Purpose Liquid Dye. Stir well. Repeat to create three small dyebaths.

Fold cotton ribbon strip until it's roughly 12" long.
Dip 1/3 of the folded ribbon into the first dyebath. Place the bottom 1/3 of the folded ribbon into the third dyebath. Place second dyebath between the first and third. Set the middle of the folded ribbon into the dyebath and allow the dye to absorb upwards—this is what will create a seamless ombre.

Once desired color and ombre are achieved, remove ribbon from dyebaths.
To set the dye, do the following right after applying the dye:
Apply Rit ColorStay Dye Fixativewith a spray bottle, which will enhance the colors and reduce bleeding. Mix 2 tablespoons of well-shaken ColorStay Dye Fixative with water and apply liberally to both sides of the jacket.
After applying ColorStay Dye Fixative, wrap sweatshirt in plastic wrap and seal the edges. Place the wrapped sweatshirt on a paper towel in the microwave and heat for 1 to 2 minutes. Plastic will puff up, creating a heat chamber that helps bond the dye with the fabric. Once the microwave is done, remove the sweatshirt and open the plastic, letting it cool down.
Rinse in cold water until rinse water begins to run clear. This is very important to prevent unabsorbed dye from bleeding into any white areas.
Wash in cold water with a mild detergent, rinse and dry.