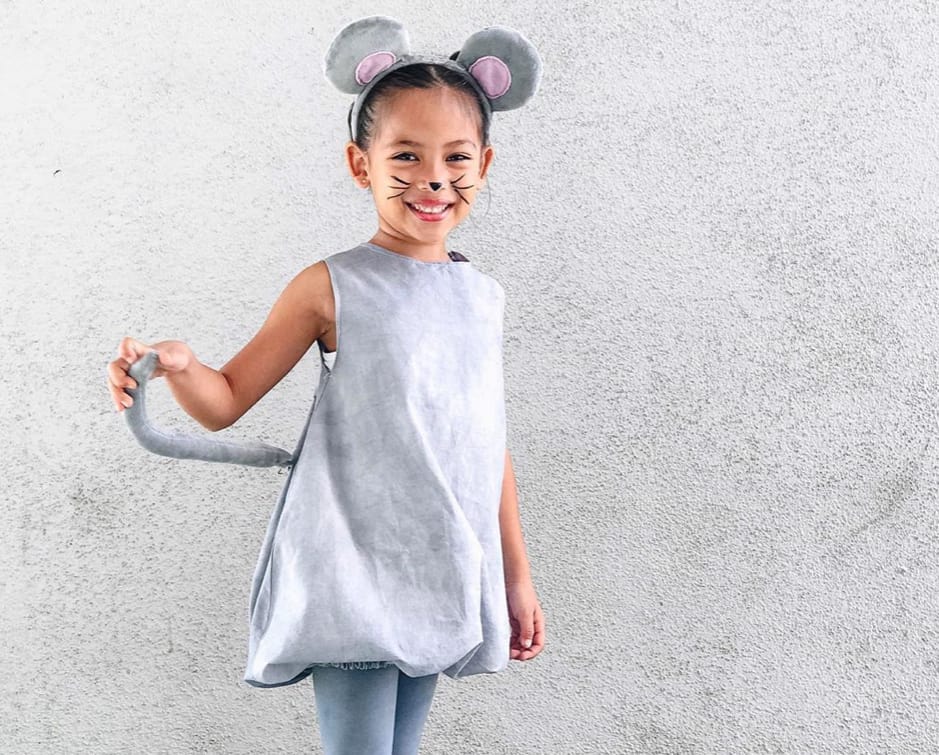 Rit All-Purpose Liquid Dye: Pearl Grey + Black
White Tights
White Shoes
White Fabric or White Dress
Elastic Band
Electrical Tape
Large Plastic Container
Rubber Gloves
Paper Towels
Plastic Table Cover
Measuring Spoon
Mouse Ears
Mouse Tail
Black Face Paint
2 Hours
Total: {{ partial.tVPM.total }}
Beginner
Total: {{ partial.tUVS.total }}
Cover table with plastic and gather your supplies.
Prewash tights, dress and shoes to remove any finishes that may interfere with dye absorption.
Cover the soles of the shoes with electrical tape. Cover any other areas that you do not want dyed with electrical tape.
The balloon style dress was created from scratch using a pattern. Elastic was added inside the bottom seam to gather it and give it a more pronounced balloon look. However, you could also use an existing white dress and stitch elastic along the bottom seam of the dress to get the same look.
Fill a large plastic container with 3 gallons of very hot water. Water temperature should ideally be 140°F.
Add 1/2 cup All-Purpose Dye in Pearl Grey and 1 teaspoon All-Purpose Dye in Black.  Shake bottles before pouring.
Add 1 cup of salt and 1 teaspoon of liquid dish detergent to help promote level dyeing. Stir well.
Test dye color by dipping paper towel in the dyebath. If color is too light, add more dye; if color is too dark, add more water.
Wearing rubber gloves, lower the fabric, tights and shoes into the dyebath. The first 10 minutes are the most critical. Stirring helps to ensure an even color with no splotches.
When desired color is achieved, remove from dyebath. Fabric will look darker when wet and will dry lighter. Squeeze out excess dye.
We recommend using ColorStay Dye Fixative immediately after dyeing and before washing to enhance color and increase color retention. Follow package instructions.
Wash in warm water with a mild detergent, rinse and dry.
Accessorize the costume with mouse ears and a tail. Draw on whiskers and nose with black face paint.