Dip Dyed Wedding Bouquet Ribbon
March 21 2018
With Rit, you can mix our dyes to achieve a library of colors to match the rest of your wedding palette. Our friend @inspiredbythis showcased this by simply dyeing some ribbon for a bouquet. "Bouquet ribbons have become a necessity for your wedding day. They're a great way to incorporate your wedding colors and add interest to your bridal look as they flow in front of your gown. But just because we think they're a must have, doesn't mean you have to spend a substantial part of your budget on them! DIYs for your wedding can be hit or miss, but these DIY dip dyed bouquet ribbons are so easy to execute – and execute well!"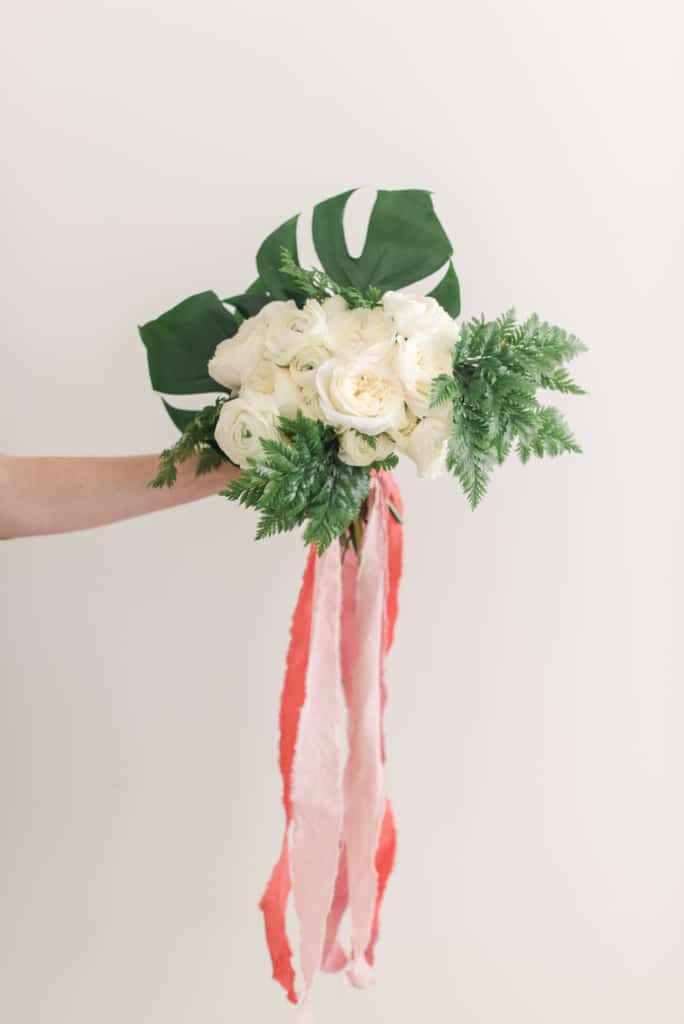 Rit All-Purpose Dye (They Used Coral and a Mix of Petal Pink, Golden Yellow and Tan)
Coton Ribbon
Small Container
Paper Towel
Clothes Pins
Plastic Gloves
Plastic Table Cover
Total: {{ partial.tHT5.total }}
Beginner
Total: {{ partial.tZ2A.total }}
Cut the spool of ribbon into thirds, creating three ribbons just over three feet long.
Wet the ribbons and wring out the water.
Fold each ribbon in half and clip a clothespin at the center for dipping.
We created three dyebaths.
For the first dyebath, we mixed one cup of the hottest water from your faucet with one tablespoon of our new Rit All-Purpose Coral Dye.
For the second dyebath, we used the Silver Peony color formula on our site. Formula is below. This was done in a larger dyebath to get the color right. 

For the the third dyebath, we used the Pink Coral color formula on our site. Formula is below. 

Hold the clothespin and slowly dip the ends of one ribbon into each dyebath until you reach the clothespin. 

 

Let soak until desired color is achieved. 

Let the ends soak longer to create an ombre effect. 

Remove ribbons and squeeze out excess dye. 

Rinse ribbons under cold running water, until water begins to run clear.
Let ribbons dry on paper towels and then hang to dry. 
Silver Peony
1 Tablespoon Tan
3⁄4 Teaspoon Petal Pink
1⁄4 Teaspoon Golden Yellow
Pink Coral
1 Tablespoon Petal Pink
½ Tablespoon Tan
½ Tablespoon Tangerine